I have been enjoying drinking Glucerna shakes for the past two years. Until now, my favorite has been the Glucerna Hunger Smart Shakes. I drink them on my busy mornings as a breakfast replacement. They are perfect for when I am in a rush and need something tasty, filling, and quick. 
 However, in the UAE, I have only been able to find Glucerna in the can.
Once you have had liquid Glucerna, the powder mix does not stand a chance. For example, the pictures of "Exhibit A" and "Exhibit B" are of the canned power mix that I bought two months ago. It remains almost full because I have only used it twice. Which is why I was completely excited when Ben Murray contacted me about trying the latest Glucerna shake…Glucerna Advance. 
I received two chocolate and two vanilla. I only tried the vanilla since I don't like the taste of chocolate (You're in dismay huh? I get that all the time. You read it correctly, I don't like chocolate. But think positively…that means there is more chocolate in the world for you).
I drank the first one by itself. It was okay, but I like the taste of the Glucenra Hunger Smart Shake slightly better.  The vanilla in this one seems more subtle in comparison. I drank it as a breakfast replacement and my blood sugar was fairly stable (I was impressed). The Glucerna Advance has "carb steady" in it (CARBSTEADY ULTRA is a slowly digestible carbohydrate blend designed to help minimize blood sugar spikes). Before the shake I was 139 and two hours later I was 130. I thought that was pretty awesome. I'll trade the bold vanilla flavor in one shake for the reduction in spikes any day.

For the second taste test, I decided to follow a recipe that was printed on the enclosed letter.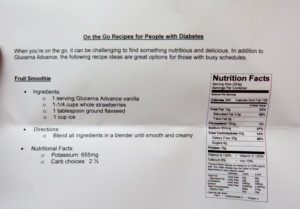 I have never used Glucerna to make a smoothie (although I enjoy making smoothies), so this was right up my alley. The only thing I was missing was the flaxseed (haven't found any yet and didn't bring them with me to the UAE).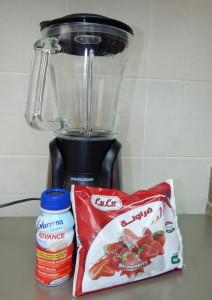 I didn't have fresh strawberries, so I used frozen ones.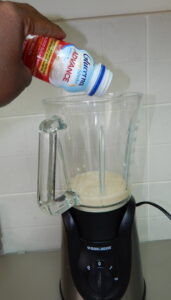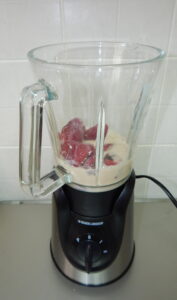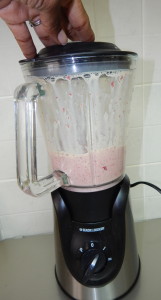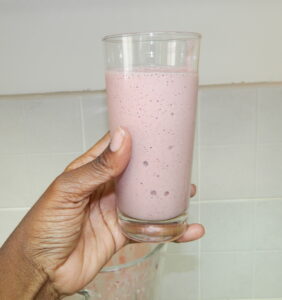 The smoothie turned out pretty good. I liked it much better as a smoothie. But, I started thinking…I wonder if it'll taste even better if I add a few pieces of mango to it?  I'm a Florida girl who grew up with two mango and two avocado trees in my backyard. Any chance I get to had mango to something, I take it!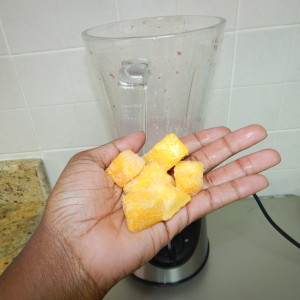 I poured the smoothie back in the blender, added a little mango, and…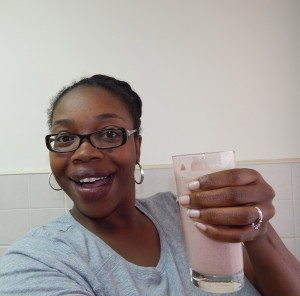 WHOOP THERE IT IS!!!
(Yes, I know that's completely old school and NO ONE says that anymore, but if you know what I mean then you're old school too. LOL).

Glucerna Advance as a Vanilla, Strawberry, Mango Smoothie ROCKS!!!!
___________________________________________________________________________________________
I was not paid for this post. I did receive the Glucerna products used in the post and a lunch bag. Although it is adorable, the free lunch bag did not influence my review. Thank you Abbott and Ben Murray of CooperKatz.