Disclaimer: I have been given this product as part of a product review through the Chronic Illness Bloggers network. Although the product was a gift, all opinions in this review remain my own and I was in no way influenced by the company.
A few weeks ago, I received a box in the mail.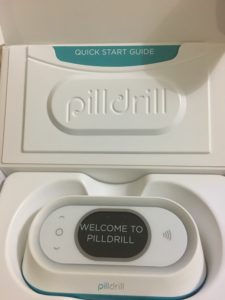 I was excited to try the PillDrill for a couple of reasons, 1-I love gadgets and now that I am living with diabetes, I have a special interest in gadgets that are designed to help me manage diabetes better. Secondly, I had gotten into a cycle of skipping my nightly meds at least once per week. I had been exhausted and often found myself asleep by 8pm which caused me to skip my nightly meds or take them much later than planned. In short, I felt that I would be in a good space to see if the Pilldrill really did what it said it would do–help me take my medications on time and consistently.
The device is appealing. The colors and the style are well thought out. I continued to open the box and discovered an array of other items.
It seemed complicated at first because I had to read the manual to understand exactly how everything goes. (I hate reading instruction manuals. This usually comes to bite me in the butt because when I "figure things out" on my own, I usually hit a road block and have to come back to the instructional guide.
The first two things that caught my attention were the pill box and the mood cube. Since I take meds in the morning and in the evening, I appreciated having a pill box that had one row slated for each of those times. (I learned from the guide that if you have take afternoon meds, you can purchase another row so that you can have 3 rows). I didn't immediately put my morning meds in the pill box and that turned out to be a great idea because in the morning I am usually taking my pills in the car before or after dropping my daughter off at daycare, at my desk at work , in the gym parking lot, or a host of other locations besides home. Had I put my pills in that pill box, I would have missed my meds because they wouldn't have been in my possession. It's best that I travel with them in my purse so that I always have then handy.
I was also eager to try the mood cube.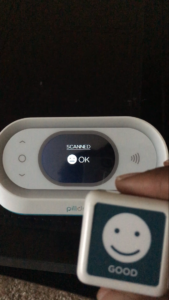 If I could offer any suggestions it would be to add a second cube so that in addition to Excellent, Great, Good, Okay, Bad, and Awful; there would be moods like: I am tired of pricking my fingers, Diabetes got the best of me, I am winning, Unstoppable, Exhausted, and Just getting by. These are more accurate descriptors of my moods throughout the week.
Perhaps, what is most appealing about the Pilldrill for people who love apps, like me, is it's app companion.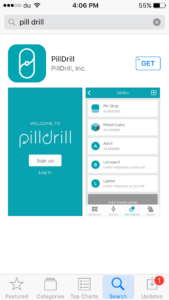 I downloaded the app and discovered that I could control the device via the app and I could allow a friend or relative know when I take my meds. I tested this feature out on one of my sorority sisters and the most amazing thing happened. I got a cold and when it came time to check in my mood, I clicked "awful" because that's how I was feeling. Well, not only did she call to check on me, but had alerted other sorority members that I was home ill.
Finally, I had the wonderful pleasure of seeing my endocrinologist and my A1C improved. When she asked what changes have I made, I shared information about the PillDrill with her. I started off skeptical, but the Pilldrill actually helped me take my medications on time.
The alarm on the device reminds you that it's time to take your meds. The alarm featured helped to wake me up and to take my meds.
The app is awesome when you are away from home. It sends you push notifications to remind you to take your meds. I loved having the app during my travels because with time changing, it was good to know when I should take my meds and remain on schedule.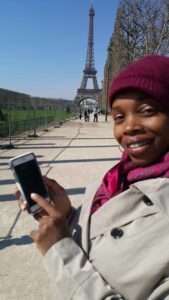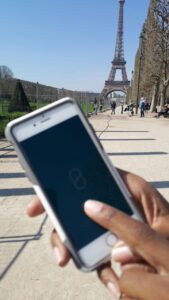 If you would like to purchase the PillDrill or learn more information about it, visit their website www.pilldrill.com
In the short time that I have had the PillDrill, I experienced better A1C, increased consistency with taking medications, and a better bond with friends who care about me. For these reasons, I highly recommend the PillDrill.