Dr. P. is a trailblazing blogger as she brings an African American perspective to the blogosphere. Active in the Diabetes Online Community (D.O.C), Dr. P. strives to maintain a leadership role in educating others about Type 2 diabetes from a patient's perspective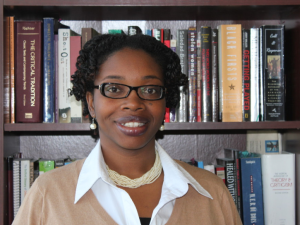 Dr. P. began blogging in 2011 shortly after she was diagnosed with Type 2 diabetes on February 15th. As the first diabetic in her family, she uses blogging as an outlet to connect with and educate others (those managing diabetes and those who are not). Today, she controls the illness without the assistance of medication. Although she currently enjoys a med-free life, she understands life with daily insulin injections, non-insulin injections, and oral medications; so she relates to people at various stages of diabetes management.
In addition to her own blog, Dr. P. is also the founder of Black Diabetic Info (a website dedicated to providing accurate, culturally-competent information about diabetes in black communities), a blogger for The Type 2 Experience, and a Diabetes Advocate.She has been featured on Sanfoi pharmaceutical company's blog and on DSMA's Blogtalk Radio Show.

As a professor of English Literature, Dr. P. blogs about diabetes from the patient perspective. Dr. P. has been invited to speak at numerous functions sponsored by the United Way, has participated in Valeritas' first Type 2 Blogger Summit in Boston, MA (June 2013), and served as a panelist at HealthMinder Day at the Blog Her '13 conference in Chicago, IL (July 2013).

Her blog features monthly recipes from diabetic cookbooks (1st Sunday of every month), weekly posts about how she manages diabetes, reviews of diabetic products and much more. Dr. P. hopes that by sharing her triumphs and struggles with battling a chronic illness that she might inspire others. Diabetes requires hourly and daily attention which means it can be overwhelming at times.
If you are managing diabetes, Dr. P. wants you to know that you're diagnosed, but NOT defeated!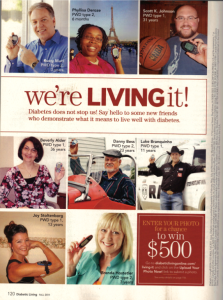 Diabetic Living Magazine (Fall 2011)